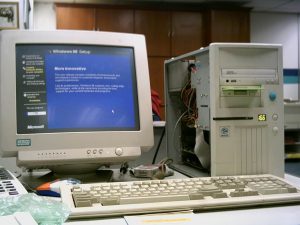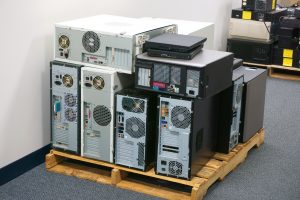 E-scrap / it assets recycling
no landfill policy
E-scrap / IT Assets recycling is technology that is no longer in use that is reusable. E-waste refers to all items of electrical and electronic equipment (EEE) and its parts that have been discarded as waste without the intent of re-use. When computers and similar are tossed in the garbage, this e-scrap contain chemicals that are harmful to people and the environment, like: mercury, lead, beryllium, brominated flame retardants, and cadmium, i.e.
Properly recycling includes dismantling electronics such as battery backups (UPS Systems) to keep harmful toxins out of landfills. IT equipment that ends up in the landfills effects all of us. This e-waste leaks out and cause soil and water contamination – harming wildlife and even human health. Specifically with lead, if released into the environment can cause damage to human blood, kidneys, as well as central and peripheral nervous systems.
The recycling process we use involves sorting IT assets between e-scrap and e-waste. Afterwards, the electronics deemed e-waste is disassembled and sorted for appropriate recycling. No electronics are sent to the landfill from our location.
Acceptable Equipment List for E-scrap / it assets recycling
if your equipment is not listed below, please contact us.
Network Equipment
All-In Ones, Blades, Bridges, Computers, Gateways, Hubs, Laptops, Modems, Repeaters, Routers, Servers, Switches, Work Station
Parts
Backplanes, Card Reader, CD, CD-ROM, CD-RW, DVD, DVD-ROM, Fans, Finger Boards, Floppy Drives, Hard Disk Drives (HDD), Heat Sinks, Memory (RAM), Mother Boards, Optical Drives, PCI Cards, Power Supply, Processors, Solid State Drives (SSD), Speakers, Zip Drives
Additional Equipment
AC Adapters, Barcode Scanners, Battery Backups, Cables, Copiers, Cords, Docking Stations, Fax Machines, iPads, Keyboards, LCD Monitors, Mice, Mobile Phones, Office Phone Systems, Office Phones, POS, Power Supplies, Printers, Scanners, Smart Phones, Tablets, UPS
Manufactures
1A2, 3Com, Aastra, Aberdeen, Addmaster, Adtran, Aerohive, Alcatel, Allworx, AltiGen, AMD, APC, Apple, Arista, AT&T, Audix, Avago, Avaya, Avery, Bixolon, Bogen, Brocade, Brother, Canon, Ciara, Cisco, Comdial, Datamax, DataSouth, Dell, Digium, EMC, Epson, ESI, Extrom, Fortinet, Grandstream, HP, HPE Enterprise, IBM, Infoprint, Intel, Intermec, Inter-Tel, IPECS, Iwatsu, Jabra, Juniper, Legend, Lenovo, Lexmark, Lucent, MCK, Meraki, Meraki, Mitel, NEC, NetApp, Netgear, Nortel, Okidata, Oracle, Panasonic, Penguin, Plantronics, Polycom, Printek, PureStorage, QCT, Ricoh, Ruckus, Samsung, SGI, ShoreTel, Siemens, Snom, Sonicwall, Spectralink, Spirit, Sun, Supermicro, Telco Systems, Tel-Plus, Toshiba, Ubiquiti, Vertical, Viking, VMX, Vodavi, Wyse, Xerox, Yealink, Yeastar, Zebra, and others